Oakridge Global Energy Solutions CEO Steve Barber talks with Ken Evseroff from New To The Street at his factory in Palm Bay, Florida.
By Joanna Rees
Oakridge Global Energy Solutions has a history of research and development with Japan including a company office in Tokyo. According to Steve:
"Japan is the leading power in the world when it comes to lithium technology, the chemistry, the cell design, the module design, and the factory equipment design. What we do here is use their cells and their modules to design the batteries. They don't design batteries in Japan; we design batteries but they design the components."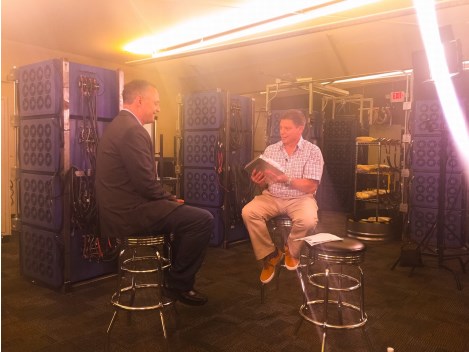 Australian-born Steve and his wife Suzanna stand in his office beside the flags of Australia, Japan, and the United States in Palm Bay, Florida.
A challenge for Oakridge Global Energy Solutions is the lack of battery manufacturing knowledge available in the USA. Oakridge Global Energy Solutions is the only battery manufacturer in the USA and materials, and skilled labor must be imported from Japan or Australia. One of Barber's goals is to bring manufacturing knowledge back to the USA through the creation of a battery cell design program that will be utilized by universities in the USA and Asia-Pacific. According to Steve:
"On average in the lithium battery industry it takes about four years to train staff, and there is no relevant university or institution in the USA to do this. There are electrical engineers or chemical engineers, but they still don't know anything about batteries. That's why we decided to use our old equipment to train skilled workers in lithium batteries. No universities stepped up to the plate."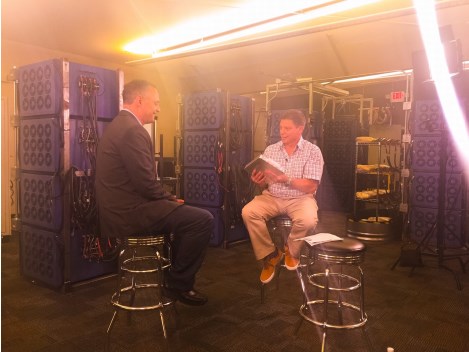 Steve in an Oakridge powered golf cart with Ken while filming New To The Street.
Steve has created an initiative called C-Tech to bring Lithium-ion energy cell manufacturing back to the USA and foster knowledge through the training of American workers at Oakridge Global Energy Solutions' facilities. Oakridge batteries are being used to power the Nissan Leaf electric car, golf carts, and wheelchairs. A native of Australia, Steve decided to build his factory in Florida due to the support of the municipality of Palm Bay. The city council is helping Oakridge Global Energy Solutions find land in Palm Bay where their next factory will be built.
Suzanna beside a statue of a bald eagle covered with American flags. The Barbers are committed to growing their business with the help of American labor.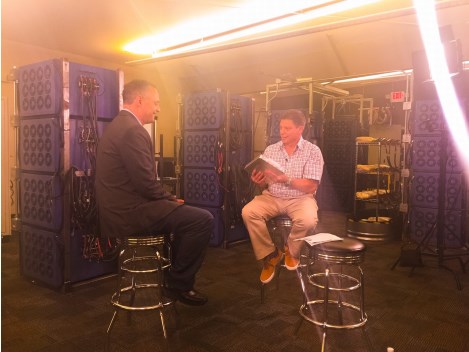 Oakridge Global Energy Solutions is growing and hiring American workers. According to Steve: "Right now we have 65-70 employees and by the end of the year or 4th quarter we'll have 125 to 150 and by the middle of 2017 our staff should be at 250-300." Oakridge Global Energy Solutions' revenue is also projected to grow with their secondgeneration Lithium-ion energy cell products expected to generate 10-15 million in sales over the next five months.